NRC Celebrate 10 Years in The Republic of Georgia
NRC International Services Ltd ("NRC") Celebrate the Ten Year Anniversary of its Operations in The Republic of Georgia.
NRC International Services Ltd ("NRC"), a wholly owned subsidiary of NRC Int. Holding Company LLC, and Portfolio Company of J.F Lehman & Company, has celebrated its 10 year anniversary in the Republic of Georgia ("Georgia") by hosting an anniversary ceremony for staff and clients.
Since 2004, NRC has delivered oil spill response and related support services in the region and now operate a total of seven Tier 2 response bases; three in Georgia and a further four in the Republic of Turkey. NRC also operates a ninth response base in the region, in Aktau City, Kazakhstan.
With a local staff base of 77 employees in Georgia, NRC provide 24/7 standby support and emergency response to local clients. Services include oil spill cleanup, equipment supply and maintenance, dedicated emergency response teams, firefighting, and training. NRC also delivers many consultancy projects such as cross boarder exercises, tabletop exercises and emergency response plan writing.
Marina Vashakidze, Country Manager of NRC in Georgia has been with NRC since the establishment of operations in Georgia. She explains, "Since 2004, we have cultivated a strong safety culture within NRC Georgia. We pride ourselves on our company infrastructure, the establishment and training of local response teams, and creating integrated management systems. Today we have excellent responders who play an instrumental role in delivering the services of our company to our customers."
Senior Vice President of NRC International Services Ltd, Neil Challis, gave a speech at the anniversary ceremony where he expressed his gratitude to the local team, "Our activities in Georgia and the fantastic work done by the Georgia team set in motion a series of events that has really established the company as the leading provider of emergency and environmental services to the oil & gas industry around the world. I regularly use NRC Georgia as a shining example of what can be achieved in establishing a truly world class emergency response capability, driven by employees with a pursuit for excellence."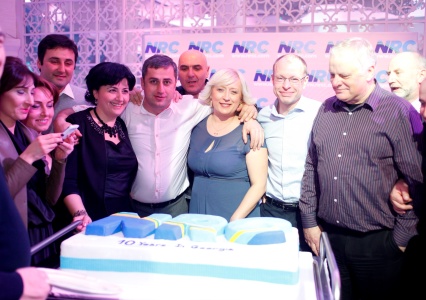 Please send inquiries to:
Hannah Holmes, Sales Operations Manager – International
Email: hholmes@nrcc.com, Tel: +44 (0) 1908 467 800