Buzzards Bay Oil Spill
Location:
Buzzards Bay, Massachusetts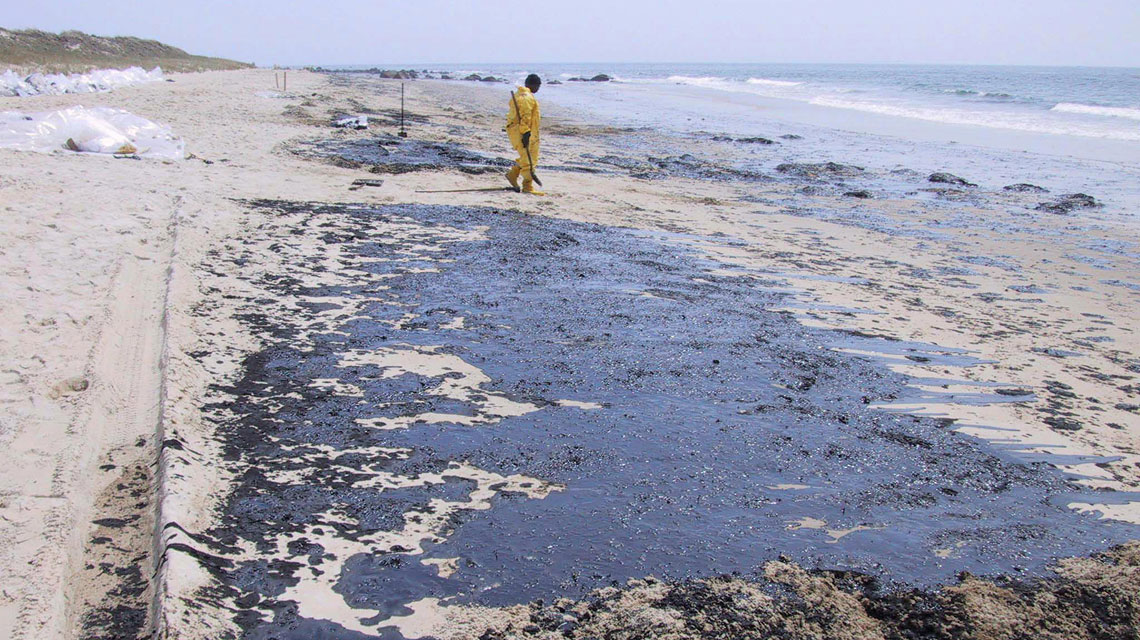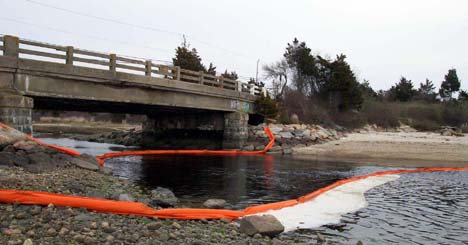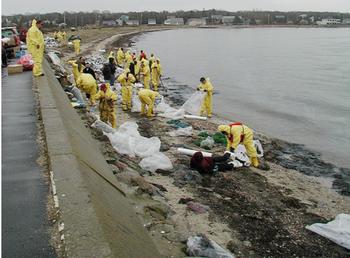 Scope
On the afternoon of April 27, 2003, the Bouchard B-120, owned and operated by the Bouchard Transportation Company, Inc. (Bouchard), grounded on a shoal soon after entering the western approach to Buzzards Bay from the south. The tugboat Evening Tide was towing the barge that was laden with No. 6 fuel oil from Philadelphia to the Mirant Power Generating Facility in Sandwich, Massachusetts. Bouchard notified the United States Coast Guard (USCG) of a release of oil at approximately 5:30 p.m. and anchored in Buzzards Bay per order of the USCG. That evening, divers discovered a 12-foot by 2-foot hole in the No. 2 starboard holding tank of the barge. After the remaining cargo and oily water was transferred to Bouchard B-10, both barges proceeded to the Mirant facility.
Between 22,000 and 98,000 gallons of the No. 6 fuel oil cargo was released into Buzzards Bay on April 27, 2003. The actual amount of the release is unknown, but has been estimated by various investigators who have taken into account such factors as the time of impact, water mixing, temperature, wind, current conditions, etc. In the days following the release, the oil was driven ashore by winds and currents. Under the direction of the Unified Command, Bouchard and the response agencies undertook various on-water recovery efforts. Once oil came ashore, the responsible party, response agencies, and others implemented shoreline clean-up activities and emergency restoration efforts. Ultimately, oil impacted approximately 100 miles of shoreline in Massachusetts and Rhode Island to varying degrees.
Response
NRC was the primary OSRO for the vessels Plan Holder.
Upon activation, NRC immediately responded with spill response personnel and response equipment
Site safety for all persons was a primary concerns
NRC deployed boom, skimmers, absorbents, pressure washers, vacuum transfer units and personal protective equipment (PPE)
Shoreline beach clean-up
Decontamination and disposal of wastes
Result
The response to this event was very successful. The goal was to clean up the spill as quickly as possible, address any concerns from the regulatory agencies and local stakeholders, and to allow the vessel traffic to resume routine operations as quickly as possible. The operation was completed safely and no injuries occurred.