Delaware River Oil Spill
Location:
Delaware River, Delaware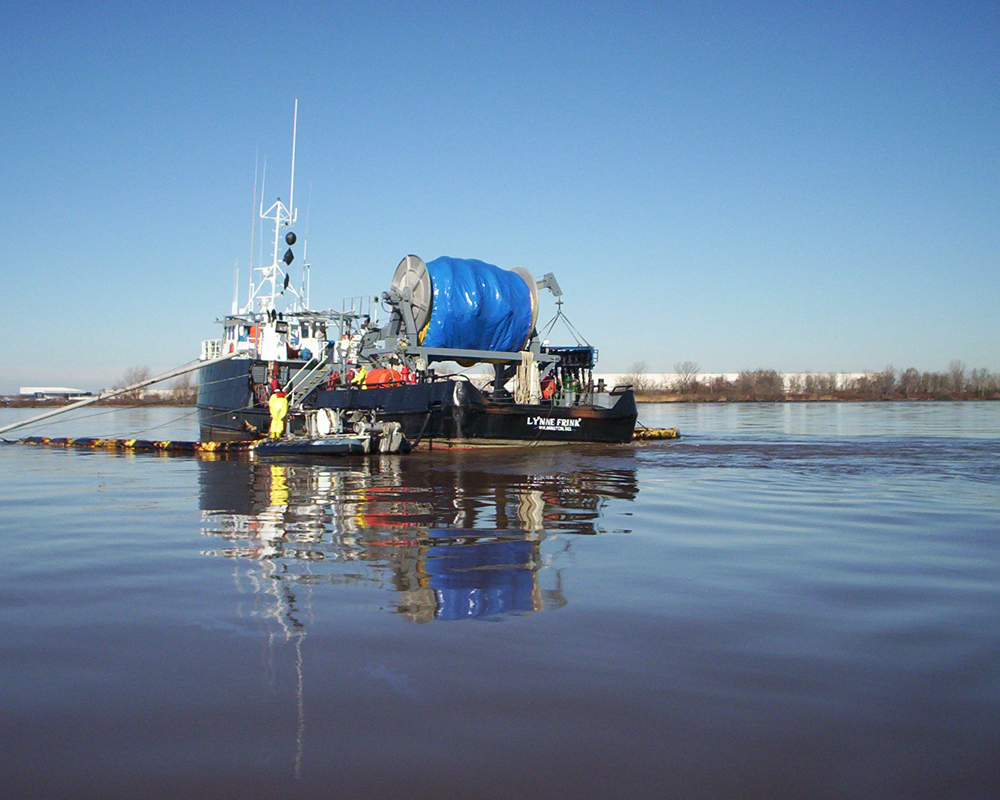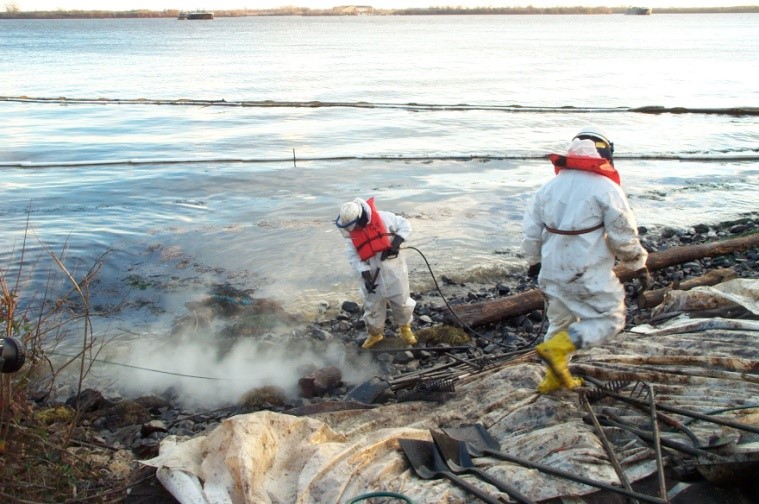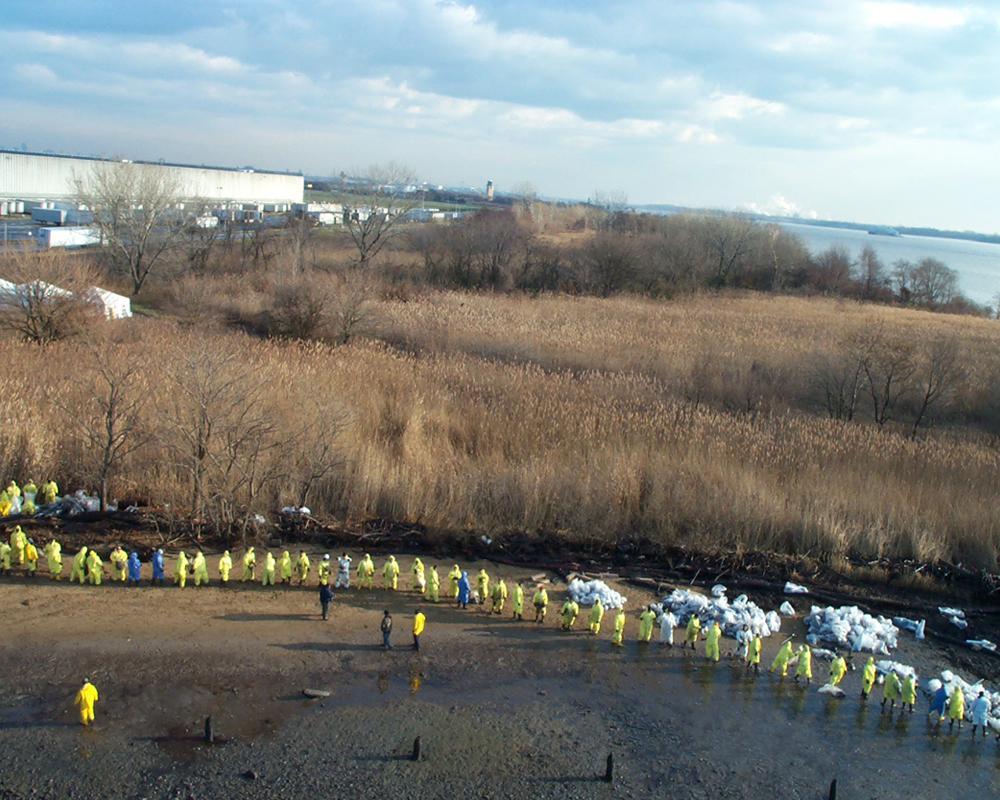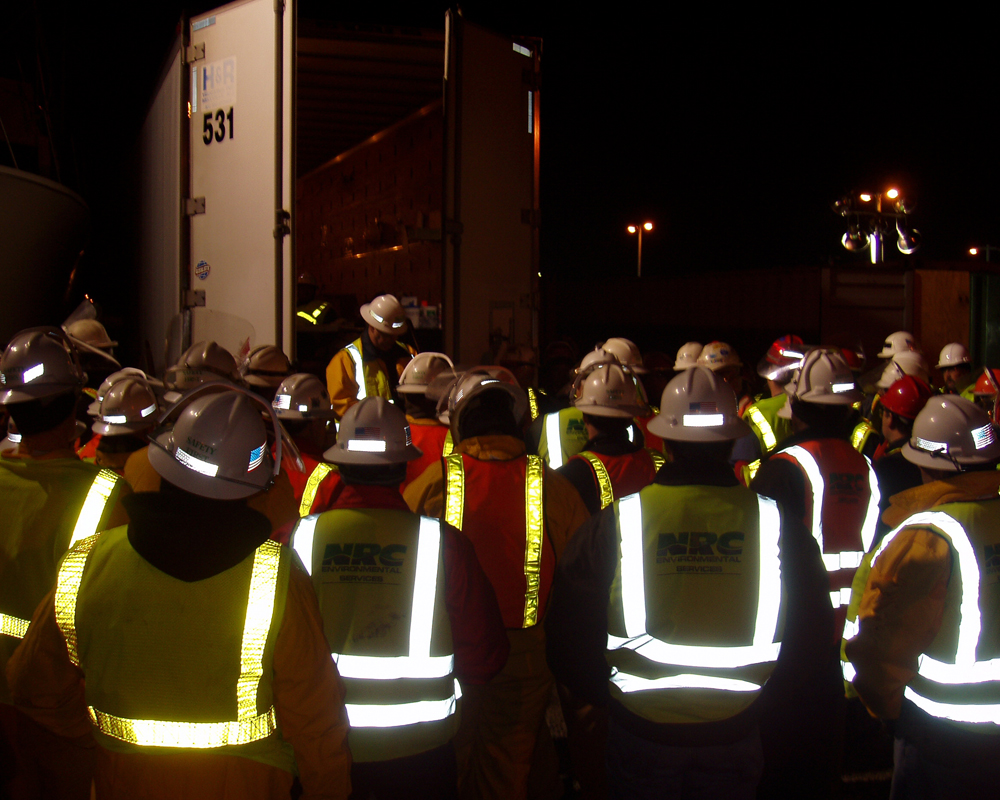 Scope
On November 26, 2004 the M/T Athos I struck a submerged object while navigating the Delaware River. Damage to the vessel caused over 263,000 gallons of crude oil to discharge into the River, contaminating more than 57 miles of riverbank in Pennsylvania, Delaware, and New Jersey.
At the peak of the field efforts, NRC oversaw 1,700 contractor personnel in the field, who were operating more than 130 boats and tending almost 40,000 feet of boom. NRC also was directing two of its OSRV's in both skimming and as a safety boat. Over 18,000 tons of contaminated debris were recovered and disposed of.
Due to the heavy nature of the oil, as well as the speed of the river, operational efforts quickly spanned beaches, marinas, pier faces and trapped vessels. The Port of Philadelphia was closed by the USCG, and more than 39 vessels required steam cleaning. NRC built a dozen cleaning task forces, based on NRC aluminium portable barge sets, and equipped them with light kits, Porto-lavs, hot water pressure washers, and personnel to conduct 24-hour operations.
In addition to these efforts, NRC sited, built and operated a 9-acre decon/demob facility to assist the RP in the timely removal of assets from the job as tasking was reduced.
NRC oversaw 17 separate contractor companies in the field, ensured safe operations in cold and inhospitable conditions, provided the USCG and the local Pilot Association with regular updates on the cleanliness of trapped vessels, and kept local clients informed of progress/status of port reopening.
The active phase of the cleanup was conducted over 6 months, after which the Unified Command determined that all the environmental public health and safety objectives had been achieved, and ongoing maintenance lasted another 6 months.
Response
NRC was the primary OSRO for the tank vessel Plan Holder.
Oversaw 1,900 personnel in the field operating 150 boats and tending 40,000 feet of boom.
Built and manned 12 cleaning task forces for vessel decon.
Over 18,000 contaminated debris removed and disposed of.
ATHOS I Response Statistics

265,000 gallons (6,310 barrels) estimated spilled
223 miles of shoreline impacted
200 Incident Command Staff
Disposal – as of 1 February 2005

11,000 tons oily solids (≈315 tons of oil at 3%)
4,000 gallons oil (≈ 13 tons)
60,000 gallons of oily water (≈ 2 tons of oil)
Result
The response to this event was very successful. The goal was to clean up the spill as quickly as possible, address any concerns from the regulatory agencies and local stakeholders, and to allow the vessel traffic to resume routine operations as quickly as possible. The operation was completed safely, and no injuries occurred.