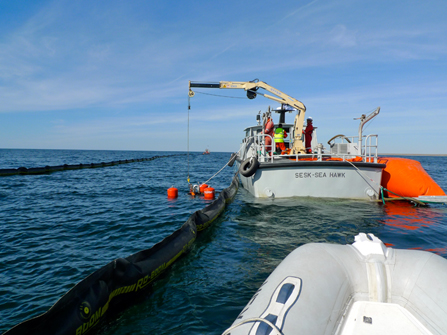 Emergency response training that looks, and feels, like the real thing.
In the arena of emergency response training, there's no substitute for the experience that a realistic emergency scenario provides. Even a simulated walk-through can prep emergency teams for the hard realities of a catastrophic response effort.
NRC's unmatched expertise in emergency response, has given us the skills to develop a comprehensive "turnkey" approach for creating, conducting and evaluating highly realistic, contingency exercises.
Our trainers have been extensively schooled in the intricate techniques of coaching, and mentoring, regional response teams through the use of basic "table-top" drills to the reality of full equipment deployment exercises, and executive crisis management indoctrination.
Making the grade. Meeting the challenge.
Fully scripted, and staged, NRC training drills capture the intensity, and realism, of actual emergency events. These exercises involve a range of potential scenarios that include fires, HAZMAT releases and product contamination, as examples. When applicable, NRC trainers take these walk-throughs to another level, simulating conditions that, when properly maintained, meet the strict regulatory requirements put forth by governmental agencies including the National Preparedness for Response Exercise Program (PREP), and the Research and Special Programs Administration for the DOT, PHMSA and BSEE.
Drills & Exercises
Case Studies
Drills & Exercises
Industry Experts