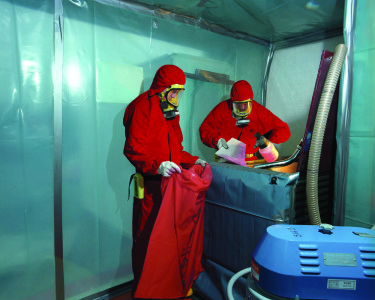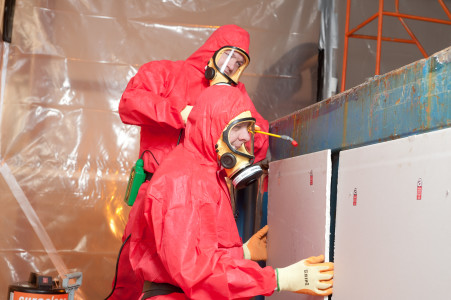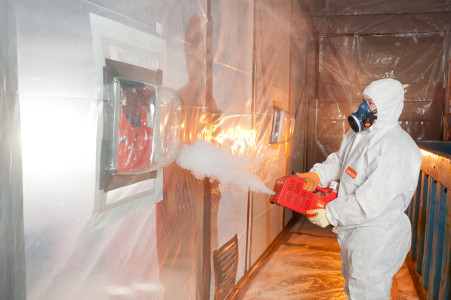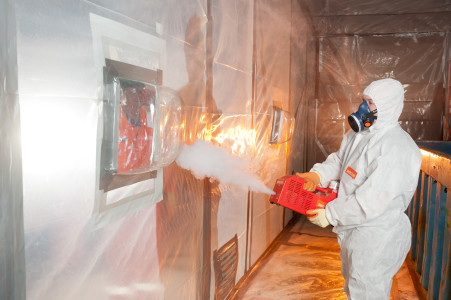 Committed to the safe, and thorough, management of asbestos.
NRC abatement technicians specialize in the control, containment, and safe removal of friable and non-friable asbestos. In addition, regulated, building materials, such as lead-based paints and coatings, PCB-containing caulk, regulated gypsum products, and mold are also managed by this service segment. Abatement services are generally performed during decontamination and demolition procedures as a feature of our all-inclusive industrial-maintenance services. NRC's cross-trained staff of experts serves both the private and public sectors, providing a range of abatement services that include assessment, removal, disposal, enclosure and encapsulation. The handling, containment and removal asbestos, and other toxic building materials, are an international problem that demands the highest standards of operational and procedural control. Worldwide, the rigid legislative safeguards for the cleanup of contaminated building sites make theses delicate operations both time- and cost-intensive. NRC welcomes the challenge, meeting and exceeding every compliance standard on the books, and in a cost-effective manner.
Effectively managing every aspect of the abatement process.
NRC approaches asbestos abatement as a three-step operation, surveillance, removal and disposal. We handle each phase with meticulous care and safety. Sureclean, a wholly owned NRC company, holds both a hazardous-material Carrier's License and a Waste-management License, certifying its disposal teams to safely transport stripped asbestos to an NRC transfer station, or directly to an approved waste-disposal site. We do it all, manned and managed by a specialized contingent of operatives and supervisors, expertly trained and certified in asbestos management services.
Our asbestos-management equipment includes:
Smoke Generators
Negative Pressure Units (NPUs)
Power Assisted Respirators
Hazardous Dust Vacuum Cleaners (Type H)
Wet Strip Injection Systems
Friable and non-friable asbestos containing material removal
Specialty negative air containments, air locks, negative Decontamination units
Asbestos Management
Case Studies
Asbestos Management
Industry Experts