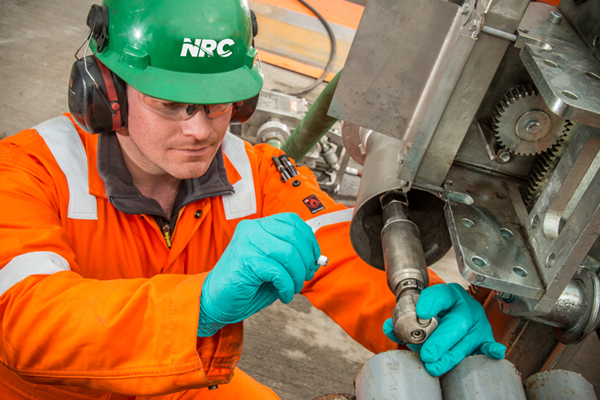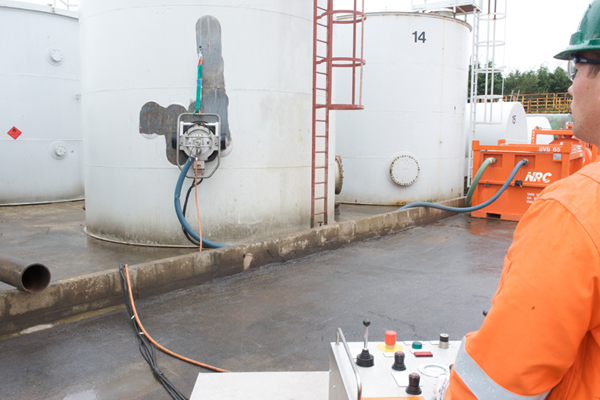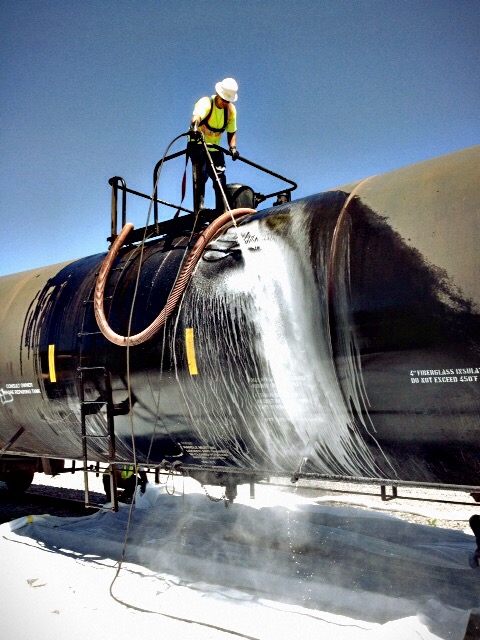 Advanced, industrial cleaning applications… any type… anywhere.
NRC's reputation as a resourceful, solutions provider in the industrial cleaning industry, has made us the leading source for both onshore and offshore, facility maintenance worldwide. Every assignment presents challenges and environmental priorities. There are often considerations for decontamination requirements, dealing with the removal of at times, hazardous, or caustic waste, operating in difficult spaces, or remote locations, and always maintaining proper safeguards— especially when flammable or volatile materials are present.
NRC has the personnel, experience and right equipment to handle the toughest, industrial cleaning tasks. Every member of our industrial cleaning team is fully certified, and well trained in the use of the latest tools, procedures and precautionary procedures. NRC mandates that all safeguards are emphatically adhered to. NRC has a proven track record of successfully managing potentially dangerous, and/or costly on-site challenges, including limited access; sensitive, long-term operations; excessive-depth challenges; and structural-integrity issues.
Hydro/Water Blasting… extremely versatile, effective and safe.
Some of the most effective cleaning technologies employed by NRC are the use of Hydro/Water Blasting services. It's ability to remove the most stubborn deposits without negatively impacting equipment, machinery or facility infrastructure, makes it one the best, all-purpose approach to preparing surfaces for coatings application and/or routine maintenance
Operating at up to 40,000 psi (2,750 bar), the use of this ultra-high pressure (UHP), effective technology enables us to remove a variety coatings, scale and other residual materials, essentially taking the substrate back to its original state. UHP cleaning is used for the surface preparation of large surface areas, such as tank internals and externals, bulkheads, decks, walkways and helidecks. Another beneficial aspect of this "no spark" application enables UHP to be widely used in hazardous and extreme environments.
NRC is a leading provider of water jetting/blasting techniques to the offshore oil-and-gas sector— maintaining a fleet of specialized, containerized equipment that fully comply with the regional safety requirements of offshore environments.
Sand/Dry Ice Blasting… a cleaner way to clean.
When chemical or water contamination is a critical consideration for industrial applications, NRC encourages the use of abrasive blasting to deliver down-to-the-surface, coating removal that's environmentally cleaner, and residue-free. The use of sand- or dry-ice blasting proves equally effective for grit and deposit removal, and surface preparation, particularly for the firm adhesion of industrial paint and coatings where a smooth, sound base is essential. The process is extremely advantageous when removing previously applied coatings, stubborn deposits, and corrosive sediment on all types of surfaces, including steel.
We deploy a considerable arsenal of surface-blasting equipment that range from blast pots/kettles to specialized, portable-abrasive systems, technology and tools that effectively improve surface preparation, and adhere to internationally recognized standards. The most commonly referred to standards are Society for Protective Coatings (SSPC), National Association of Corrosion Engineers (NACE), and Swedish Standards (SA). NRC also offers slurry blasting, using an abrasive media in tandem with UHP water jetting— and applying using specialized, proprietary tooling.
Mechanical Cleaning… geared strictly for small, restrictive areas.
When targeting smaller, designated, or sensitive areas for cleaning, and UHP, or abrasive blasting, isn't practical, NRC recommends this safe and effective alternative. The use of hand-held, compressed-air-operated power tools, such as needle guns, and sanders, that utilize abrasive discs— are particularly applicable when preparing select areas for cosmetic repair or inspection. During mechanical cleaning, NRC stipulates that all hand tools employed by our technicians fully adhere to current compliance legislation and all regional "safe-operating" procedures.
NRC's scope of industrial cleaning services includes:
Hydro-blasting
Water-jetting
Sand/Dry ice-lasting
Mechanical cleaning
Cold cutting
Pipework descaling
Caisson cleaning
Chemical-circulation cleaning
Deluge-and-sprinkler-system descaling & maintenance
360º dimensional cleaning
Industrial Cleaning
Case Studies
Industrial Cleaning
Industry Experts