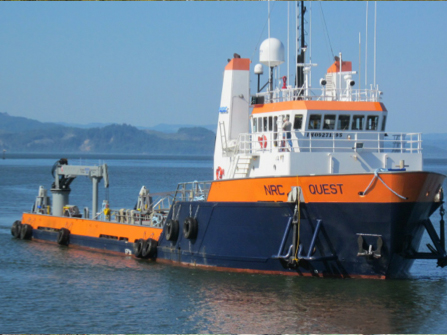 Near shore, or in open water… we're prepared.
The complexities of working in a marine environment are numerous. From having a firm grasp of basic safety requirements while working on a vessel to understanding how the effect of maritime traffic, tide schedules, and draft and weather contributes to performance, NRC personnel are accomplished at understanding and navigating these challenges to ensure project effectiveness. Our marine operations can range from dealing with a complex, open-sea emergency, to a routinely scheduled, maintenance call in safe harbor. We've been providing marine-based, logistical, and environmental services since the early days of the company's founding, consistently delivering project services on time, and on budget.
Servicing clients with a large contingent of specially equipped fleet and support equipment.
NRC owns and maintains a fleet of multi-use deck barges and workboats, in various sizes, each custom-equipped to respond to specific types of inland, or open-water, vessel needs. In addition, we have an extensive fleet of vacuum and vactor trucks, roll-off trucks, trailers, and containment boom. High capacity centrifugal and diaphragm pumps, hydraulic submersible pumps, hoses and a variety of ancillary equipment allow for the movement of any pumpable material. We are fully prepared to support, or conduct, marine-focused projects, including salvage-and-demolition operations, pier maintenance, buoy and anchor placement, emergency manning, technical support, and many other vessel-assist activities.
Marine Related Project Support
Case Studies
Marine Related Project Support
Industry Experts