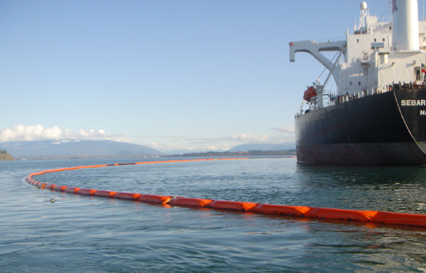 Watchful, prepared and equipped.
Increasingly stringent, regional regulations have mandated that companies engaged in the lightering or bunkering of persistent hydrocarbon products, must implement preventative measures to safeguard against an unauthorized release. In an effort to stay one step ahead of the complex, and fluctuating, schedules of the marine, oil transport industry, NRC maintains one of the largest inventories of oil spill containment boom available. In addition, our expert field teams are available on a 24/7 standby basis should an unforeseen schedule change or emergency deployment be necessary.
Maritime best practices universally recommend improving communication chains between the vessel, the bunker, offshore military patrol, and harbor patrol. Another mandate dictates that pre-booming, stand-by response, and dock-watch services are in place at all times. NRC is on-call, and ready, with dedicated resources that includes vessel, crew, and onboard containment boom. We are prepared to mobilize when the call comes.
Pre-Booming, Standby, & Dock-Watch Services
Case Studies
Pre-Booming, Standby, & Dock-Watch Services
Industry Experts