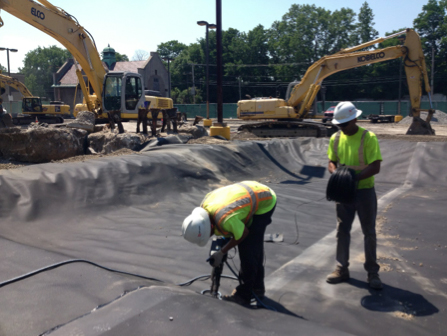 The threat and magnitude of landfill contamination is a critical global problem that is endangering groundwater purity for millions. Older, unregulated sites, especially, are capable of leaching toxic liquid through the base of the landfills where pockets of this contaminated fluid are infiltrating residential water tables. NRC's capping and containment technologies form a barrier between the contaminated media and the land surface, curbing the environmental impact.
Formulating a sound approach. Applying a proven method.
A well-executed capping will effectively restrict contaminated surface water from leaching below ground, and migrating into vulnerable groundwater resources. NRC's extensive experience with small- and large-scale capping and containment projects are well documented. We have the technical know-how, the advanced-containment techniques and equipment, and the on-site skills and resourcefulness to support a range of specialties. Our landfill services include the implementation of simple containment systems, landfill repairs and material relocations, and complete, full-scale, landfill closures. All operations are managed by contingents of experienced capping technicians, applying strict environmental protocols.
Capping & Containment
Case Studies
Capping & Containment
Industry Experts